micro:bit V2 is here!

The latest revision of the BBC micro:bit is designed to be completely familiar to anyone who has used the original device. It's the same size, shape, looks very similar, and works in the same way. Every program that could run on a micro:bit version 1 can be re-built to run on the latest revision. The editors will support both versions simultaneously for features common to both boards.
The latest revision builds upon the current micro:bit experience by refining the board and adding widely requested sound making and sensing capabilities.
Amongst the micro:bit features, 'sound' is in a unique position of being already present in the editors, but not on the board, so it is already familiar to teachers, yet the speaker and microphone on the board are transformative in the kinds of applications people can build.
Introducing the brand-new micro: bit V2, a must-have for technology and STEM enthusiasts. Now available with improved features to the hugely successful predecessor board with over 4 million boards being sold worldwide. This powerful, pocket-sized computer will be loved by all that use it. Designed to teach kids coding and solve problems using technology.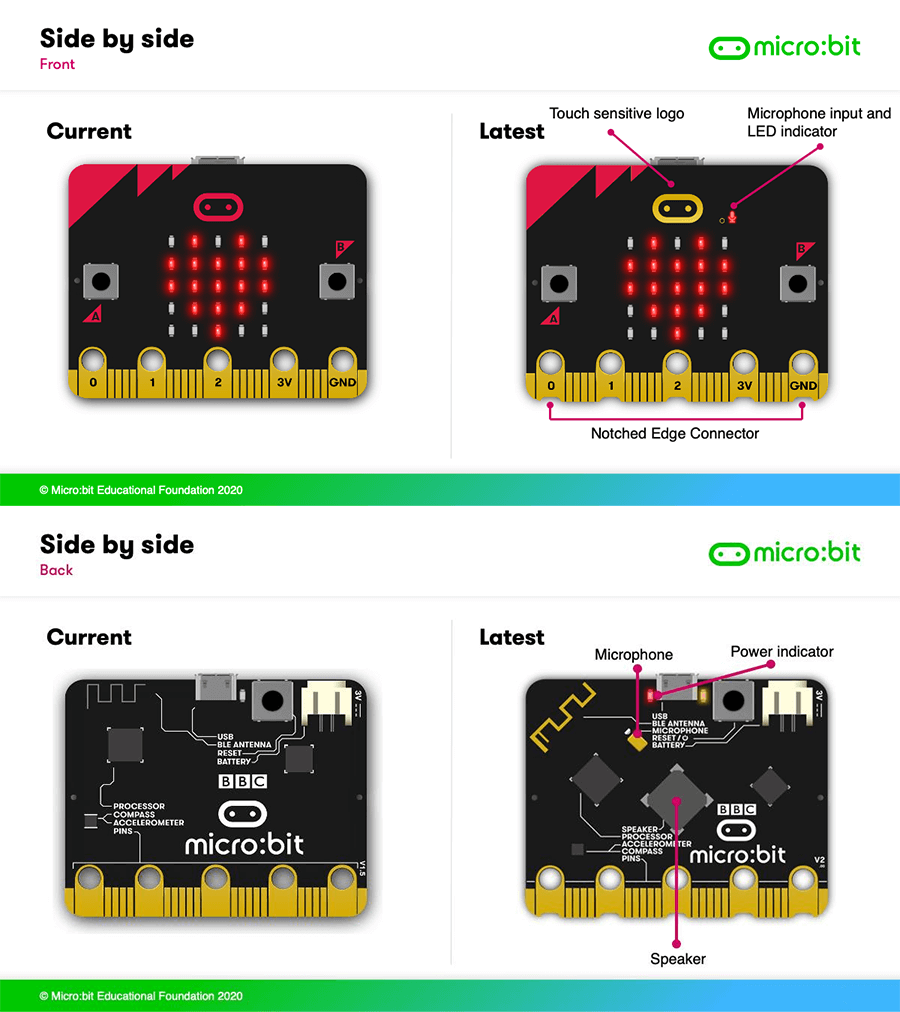 What are the differences in V2.0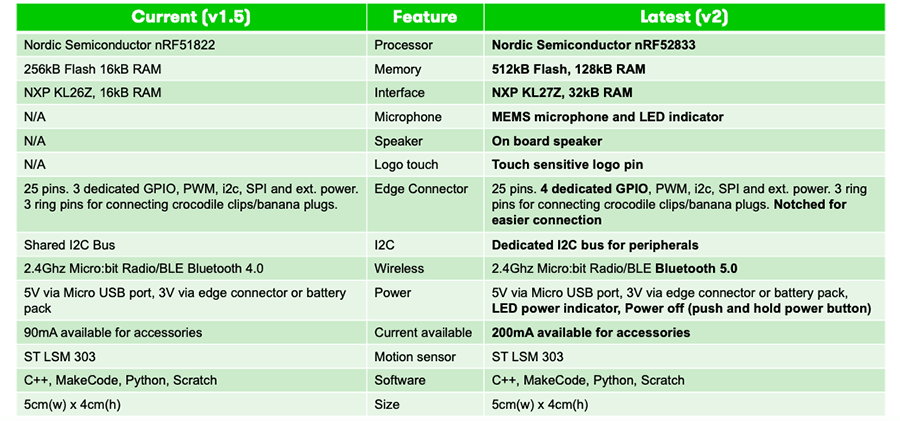 FEATURES:
On board speaker
MEMS Microphone with LED indicator
Touch sensitive logo
Built-in sleep/off mode that means the board can be powered-down with batteries connected
Discrete regulator that can supply up to 200mA of current to external accessories Refinements
Notched edge connector. To make it easier to connect things like crocodile clips and conductive thread
Power LED indicator. In addition to the USB activity indicator, a power LED shows whether the micro:bit is powered on or off
Copper plated antenna. To easily identify the radio/Bluetooth component
Designed specifically for kids and beginners, the micro:bit is a pocket-sized computer that you can code, customize and control to bring your digital ideas, games and apps to life. It's a small, code-able device that is a non-intimidating introduction to programming and making – switch on, program it to do something fun – wear it, customize it, develop new ideas.
At half the size of a credit card, you will be surprised at the amount of hardware each board is equipped with, including 25 red LED lights that can flash messages. There are two programmable buttons that can be used to control games or pause and skip songs on a playlist. The micro:bit can even detect motion and tell you which direction you're heading. It can also use Bluetooth Low Energy (BLE) to interact with other devices and the Internet.
A closer look at the front of the V2 board, the 5x5 LED array is still there for you to display words, numbers, and of course the two programmable buttons! V2 board comes with a MEMS microphone input hole and a mic indicator LED. If the sound input is enabled in the program or your code, the mic indicator will be illuminated. And not to forget the micro:bit logo, it is now a capacitive touch sensor. It can be used to detect touch. 
The microcontroller on the micro:bit V2 is now nRF52833 with double the memory size to 512KB Flash, and 8 times larger size of RAM to 128KB.  With the upgrades of the main controller, micro:bit V2 is now Bluetooth 5.0 and also BLE (Bluetooth Low Energy).
Besides the MCU, the co-microcontroller that handles USB connection, KL26Z with 16KB RAM is being upgraded to KL27Z with 32KB of RAM too. micro:bit V2 still comes with an accelerometer, compass, and Bluetooth Smart antenna, as well as a micro USB and two-pin JST connector for different power options.
At the bottom of the board, you will still get the 20 gold-tabbed edge pins and however, the five ring connectors (three for digital/analog I/O, two for power and ground) for hooking up external components now come with notched edges. These notched edges will help the insert to the socket. 
SPECIFICATIONS:
Processor: Nordic Semiconductor nRF52833
Memory: 512kB Flash, 128kB RAM 
Interface: NXP KL27Z, 32kB RAM
Microphone: MEMS microphone and LED indicator
Speaker: on board speaker
Logo touch: touch sensitive logo pin
Edge Connector: 25Pin,4 dedicated GPIO, PWM, I2C, SPI and ext. power. 3 ring pins for connecting crocodile clips/banana plugs. Notched for easier connection.
I2C: Dedicated I2C bus for peripherals
Wireless: 2.4Ghz Micro: bit Radio/BLE Bluetooth 5.0
Power: 5V via Micro USB port, 3V via edge connector or battery pack. LED power indicator,Power off(push and hold power button)
Current available: 200mA available for accessories
Motion sensor: ST LSM303
Software: C++, Make Code, Python, Scratch
Size: 5cm(w) x 4cm(h)